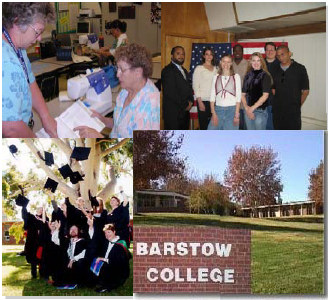 Enjoy excellent working conditions in an extraordinarily dynamic region. Smalltown living with proximity to beaches, mountains, and desert. Enjoy conveniences of close-by cities like Las Vegas and Los Angeles while living in a small city of 23,000. Be on the cusp of innovation and join a college with more than $35 M in campus improvements underway.

Barstow College is a fully accredited two-year California community college. The single-campus district is located in the Inland Empire area of San Bernardino County. The College was established in 1959 and moved to its permanent facilities in 1964.

Barstow College offers on campus and off campus classes enhanced with instructional television and on-line courses available in general education and technical areas.
Barstow College
2700 Barstow Road
Barstow, California 92311
Phone:760-252-2411 Ext 7232
Email:jobs@barstow.edu
www.barstow.edu/jobs
EQUAL OPPORTUNITY
The Barstow College District is an equal opportunity employer. The District encourages applications from all qualified individuals without regard to age, ancestry, color, religious creed, disability, marital status, medical condition, national origin, race, religion, sex, sexual orientation, Vietnam-era veteran status.
---
Invites applications for the position of:
Associate Vice President of Human Resources
Open Until Filled
First paper screening:January 27, 2014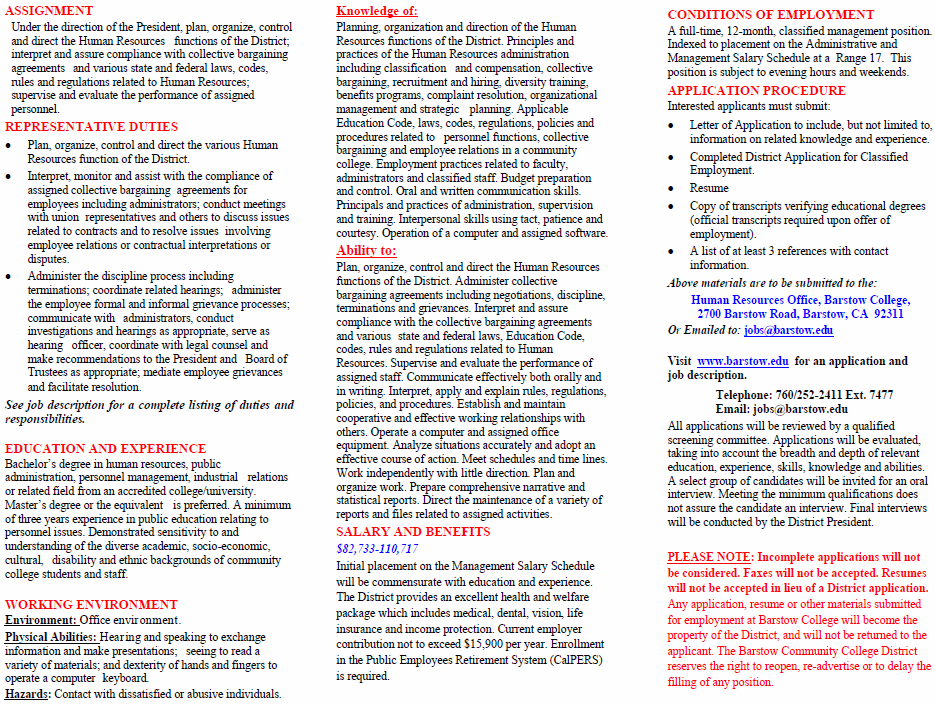 ---
Invites Applications for the Position of:
Bookstore Operations Assistant(Part-Time)
Deadline to Apply:January 17, 2014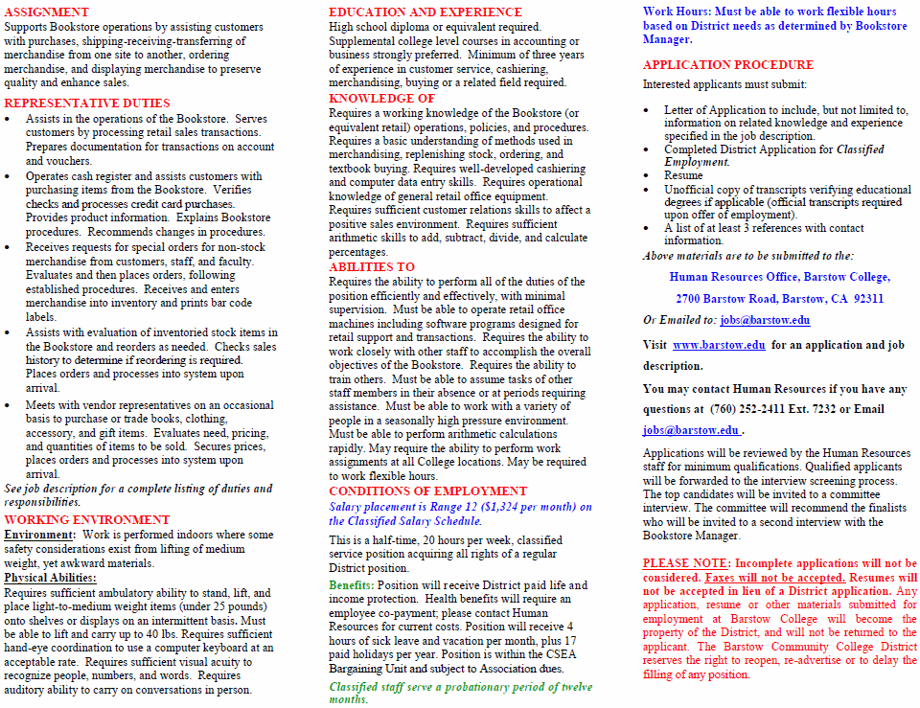 ---
Invites applications for the position of:
Dean of Instruction - Career Technical Education/Workforce & Economic Development
Open Until Filled
Next paper screening will occur January 27, 2014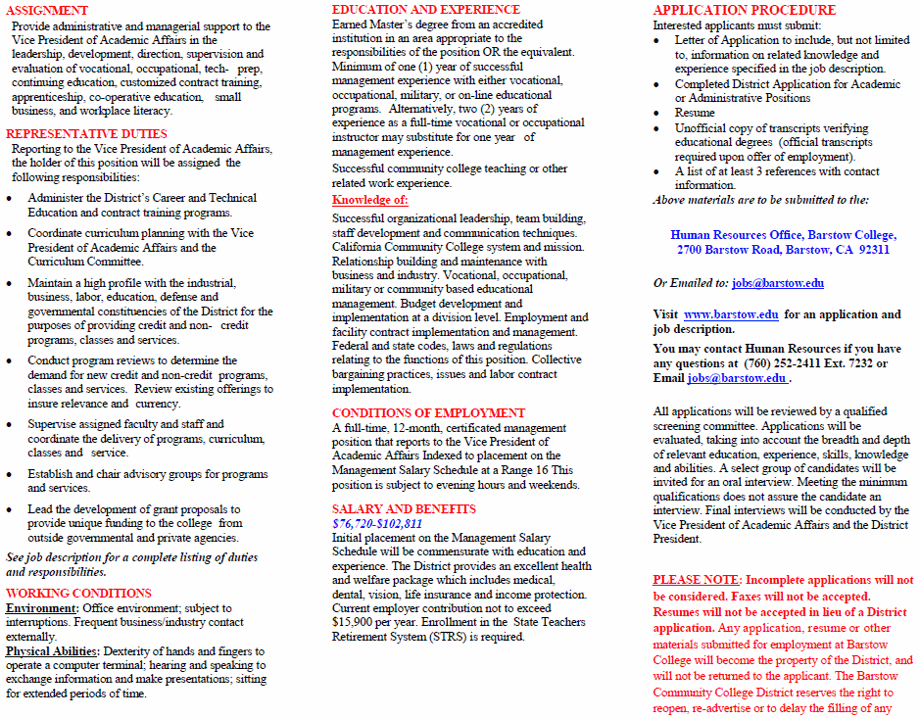 ---
Invites applications for the position of:
Mathematics Instructor(Tenure Track)
Open until filled.
First paper screening January 03, 2013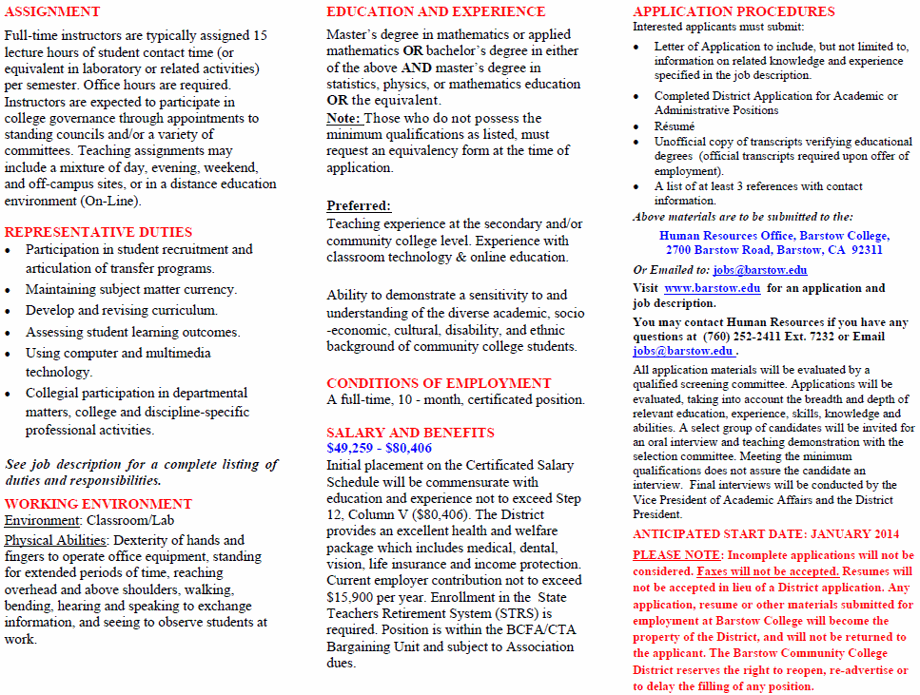 ---
Invites applications for the position of:
Director of Special Programs & Services
Open Until Filled
Second paper screening will occur January 17, 2014