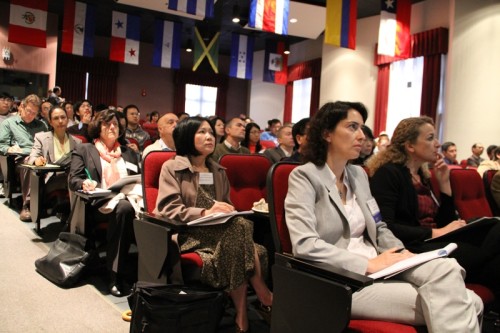 Immunotherapy, the New Frontier of Disease Treatment
Date: March 14, 2015(Saturday)8:30am To 1:00pm(Breakfast and lunch will be provided)
Location: Institute of Americas, UCSD
(directions available at http://www.sabpa.org/web/news_details.php?ID=449)
Registration: https://www.123signup.com/register?id=yppvf
$20 for online registration, $10 for students and post-docs. $40 for on-site registration, Online registration ends March 11, 2015
Immunotherapy including allergy, diabetes and cancer immunotherapy has been studied for decades, but only recently has it received much attention, especially in oncology area of research. It was the central topic at recent 2014 AACR(American Association for Cancer Research)and ASCO(American Society of Clinical Oncology)annual meetings. With recent FDA approval of immunotherapy agents from Merck and Bristol-Myers for the treatment of cancer, and with much more under development and clinical trials globally, immunotherapy could be the game-changing treatment with its potential to cure certain types of cancer. Many pharmaceutical companies have renewed their strong interests and invested greatly in immunotherapy for multiple disease areas either internally or through external collaborations.
This year's SABPA Science & Technology Forum XIII will focus on current frontiers in immunotherapy. It will bring academic and industry leaders in the immunotherapy field from San Diego and its neighboring area as well as investigators from immunotherapy centers in China to address opportunities and challenges of immunotherapy in many disease areas, particularly in cancer.
speakers
Matthias von Herrath, M.D.
Director of the Center for Type 1 Diabetes Research, La Jolla Institute of Allergy and Immunology
Jonathan Benjamin, M.D.
Medical Director, Amgen
Michael Cooke, Ph.D.
Director of Immunology, Genomics Institute of the Novartis Research Foundation
Jamey Skillings, M.D.
CMO, Tocagen
Greg Daniels, M.D
Medical Oncologist, UCSD Thornton Hospital and UCSD Medical Center
Jon Berglin
CEO, Theragene
Lewis R. Vann, Ph.D.
Senior Manager, Business Development, the Jackson Laboratory
Tags:
Science and Technology Forum