The USC U.S. China Institute presents a talk by Morris Rossabi on the current situation between Mongolia and China.
Date:Monday, February 12, 2018
Time:5:00-6:30pm
Location: Annenberg School for Communication & Journalism, ASC 207
Free, RSVP here.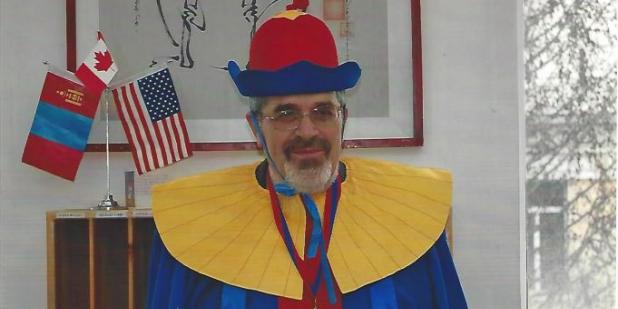 Mongolians have often been suspicions, especially since Qing China occupied Mongolia and treated it as a colony from 1691 to 1911. Of even greater concern was that until 1950, Mao Zedong had claimed that Mongolia was a Chinese province. Partly due to these political threats, Communist Mongolia sided with the Soviet Union in its disputes with the People's Republic of China from 1964 until the mid-1980s. After the collapse of Communism in Mongolia in 1990, Mongolia has, despite some misgivings, restored relations with China. Adopting policies advanced by international financial agencies(IMF, World Bank, Asian Development Bank), Mongolia has developed considerable trade with its neighbor, and China has become the largest investor in the country. China's elevated position has implications for Mongol's cultural, political, and economic relations with Taiwan, Russia, Japan, the West, and the Dalai Lama. This presentation considers the current situation, as well as prospects for the future.
About the Author
Born in Alexandria, Egypt, Morris Rossabi(Ph.D., Columbia University)teaches Chinese and Mongolian history at the City University of New York and at Columbia University. Author or Editor of twenty-five books, including Khubilai Khan; Modern Mongolia; China and Inner Asia; Voyager from Xanadu, and The Mongols:A Very Short Introduction, he has lectured widely in East Asia, the Middle East, Europe, and the Unite States. He served as Chair of the Arts and Culture Committee of the Open Society, is on the Global Advisory Board of the Chamber Music Society of Lincoln Center, and has collaborated on exhibitions at the Metropolitan Museum of Art, the Los Angeles County Museum of Art, and the Asian Art Museum in San Francisco. He was awarded an Honorary Doctorate by the National University of Mongolia.
Chinese Investment In California:Trends, Players, Worries
Date:Monday, February 8, 2018
Time:4:00-5:30pm
Location: Annenberg School for Communication & Journalism, ASC 207
Free, RSVP here.
Beijing-based Oceanwide is one of the Chinese companies who are changing the Los Angeles skyline.
Chinese direct investment in the U.S. reached a record $45 billion in 2016. Over a third of that came to California. The pace and scale of investment dropped in 2017. California still saw nearly $5 billion in new investment. The Rhodium Group has been a leader in documenting and analyzing these trends. Founding partner Daniel Rosen has spoken at the USC U.S.-China Institute a couple of times, including in 2013. On Thursday, Feb. 8, we are delighted to welcome Rhodium Group senior analyst Cassie Gao to speak. She has written extensively on Chinese investment in the U.S. and is especially focused on California. She will discuss the most prominent sectors for Chinese investors and the investors who are making the biggest impact in California.
| | |
| --- | --- |
| | |
Cassie Gao is a Senior Analyst at RHG focusing on China's international trade and investment flows. Cassie works extensively on Chinese investment into the United States, as well as broader Chinese macroeconomic reform dynamics. Previously, Cassie worked with the Albright Stonebridge Group's China Practice covering healthcare reform and agriculture policy. She has a Bachelor's in Economics from Cornell University and a Master's in International Affairs from George Washington University.

Rhodium Group(RHG) combines policy experience, quantitative economic tools and on-the-ground research to analyze disruptive global trends. Our work supports the investment management, strategic planning and policy analysis needs of clients in the financial, corporate, non-profit and government sectors. RHG has offices in New York, California and Hong Kong, and associates in Washington and New Delhi.

Click here to watch Daniel Rosen's talk on "How Chinese Investors And Businesses View The U.S."
Avoid traffic and get to USC by taking the Metro's Expo Line
Get off at the Expo Park/USC stop for a short walk to campus. Click here for more information.
Driving Directions to Campus
For maps and directions to campus, visit the University Park Campus Map & Driving Directions page.
Suggested Parking
McCarthy Way Parking Structure(Formerly Parking Structure X)- $12/day
Enter at the Figueroa Street Entrance at McCarthy Way(Formerly Entrance 3)