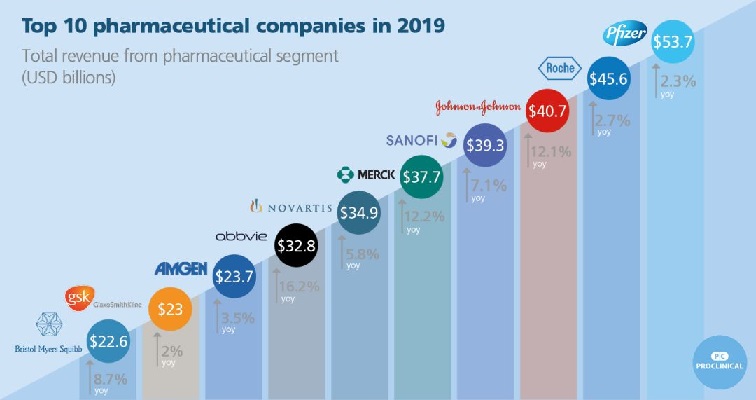 The global pharmaceutical industry reached unprecedented heights in 2018, being estimated at an astounding $1.11 trillion. By 2020, this figure is set to rise to $1.43 trillion. With rising pressure to develop drugs to meet ever increasing global demand, pharmaceutical companies continue to work tirelessly to bring the most innovative and cutting-edge treatments to patients.
2018年,全球制药业达到了前所未有的高度,估计高达1.11万亿美元。到2020年,这一数字将升至1.43万亿美元。
Being a research-driven industry, approximately $150 billion is spent by pharmaceutical companies every year on research and development projects. Out of thousands of compounds, only a small percentage gain regulatory approval to be used by patients to treat disease and improve quality of life. However, in 2018, a record number of novel drugs developed by pharmaceutical companies across the globe were approved by various regulatory bodies. A large proportion were approved by the US regulatory body, the FDA, which approved 55 novel drugs and smashed its record for generic approvals(781 up from 763 in 2017).
作为一个以研究为导向的行业,制药公司每年花费约1500亿美元用于研发项目。在数千种化合物中,只有一小部分获得了患者用于治疗疾病和提高生活质量的监管批准。然而,2018年,世界各地的制药公司开发的新药数量创记录,得到了各种监管机构的批准。很大一部分是由美国监管机构FDA批准的,FDA批准了55种新药,打破了仿制药批准的记录(从2017年的763份增加到781份)。
Although the USA's market share of the global pharmaceutical industry is worth over $341.1 billion, the Chinese, South East Asian, Eastern European and South American markets are beginning to emerge. For example, the Chinese market is rich with preclinical and early-phase drugs, and is a growing nucleus of biotech activity. The next few years will see global growth thanks to the increasing wealth worldwide, as well as increasing demand to maintain high levels of innovation to combat unmet medical need.
尽管美国在全球制药业的市场份额超过3411亿美元,但中国、东南亚、东欧和南美市场正在开始出现。例如,中国市场拥有丰富的临床前期和早期药物,是生物技术活动的核心。未来几年,由于全球财富的增加,以及对保持高水平创新以应对未得到满足的医疗需求的需求不断增加,全球经济将出现增长。
ProClinical has ranked the leading pharmaceutical companies according to 2018 revenue from their pharmaceutical segment only. Below is a list of the top 10 biggest pharma companies in the world in 2019:
根据2018年制药行业的收入排序。以下是2019年全球十大最大制药公司的名单:
10. Bristol-Myers Squibb(BMS)US $22.6 billion
布里斯托尔-迈尔斯·施贵宝Bristol-Myers Squibb(BMS)226亿美元
A new entry into the top 10 pharma list is Bristol-Myers Squibb, a leading American pharmaceutical company headquartered in New York City. BMS specialises in four key therapy areas:oncology, cardiovascular, immunoscience and fibrosis. The company's strong growth in 2018 can be in part attributed to continued success of leading drugs Opdivo(cancer)and Eliquis(a blood thinner). BMS' success is likely to be further boosted following the company's planned acquisiton of Celgene - an innovative oncology biotech - in early 2019. This strategic acquisition will help position BMS as a leading biopharma player thanks to Celgene's robust pipeline.
排名第十的制药公司是布里斯托尔-迈尔斯·施贵宝(Bristol-MyersSquibb),这是一家总部位于纽约市的美国领先制药公司。BMS专注于四个主要治疗领域:肿瘤学、心血管、免疫科学和纤维化。该公司在2018年的强劲增长可以部分归功于领先药物Opdivo(癌症)和Elicis(血液稀释剂)的持续成功。BMS的成功可能会在该公司计划于2019年年初获得创新肿瘤学生物技术Celgene之后得到进一步提升。这一战略收购将有助于定位BMS作为一个领先的生物harma播放器,感谢Celgene的强大的管道。
9. GlaxoSmithKline(GSK)US $23 billion
葛兰素史克(GSK)230亿美元
A staple candidate in the top 10 pharma list year on year, GlaxoSmithKline(GSK)is a leading British pharmaceutical company that always boasts a strong pipeline of innovative drugs. The company specialises in a broad range of therapy areas but is particularly successful in the fields of HIV/AIDS, respiratory and vaccines. The company enjoyed 2% revenue growth compared with 2017 figures, with sales being boosted by GSK's best-selling HIV drugs Trivicay and Triumeq, the Ellipta inhaler for asthma and COPD and Nucala, another successful asthma treatment. Last year GSK saw the key approval of Shingrix, developed to treat the shingles virus, which was very successful in 2018 as expected, with sales reaching £784 million. In general, growth was slightly offset by steep generic competition in 2018 for various GSK drugs like Seretide, Epizixom and Avodart.
葛兰素史克(葛兰素史克)是英国领先的制药公司,一直拥有强大的创新药物供应渠道。该公司专门从事广泛的治疗领域,但在艾滋病毒/艾滋病、呼吸道和疫苗领域尤其成功。与2017年的数据相比,该公司的收入增长了2%,销售得益于葛兰素史克最畅销的艾滋病药物Trivicay和治疗哮喘的Ellipta吸入器Trivicay和另一种成功的哮喘治疗药物Nucala。去年,GSK公司获得了Shingrix公司的批准。Shingrix是为治疗带状疱疹病毒而开发的,该病毒在2018年如出一辙,销量达到7.84亿英镑。总体而言,2018年,葛兰素史克(GSK)各种药物如舒利肽、比萨康和阿伏特加的激烈非专利竞争,略微抵消了增长。
8. Amgen US $23.7 billion
安进 237亿美元
Amgen is an American biopharmaceutical company headquartered in California that specialises in developing novel human therapeutics, with a focus on cardiovascular disease, oncology, bone health, neuroscience, nephrology, and inflammation. The company is steadily becoming a permanent fixture on this top 10 list. This change is in part due to the success of various Amgen products, including Repatha(72% increase yoy), BLINCYTO®(31% increase yoy)and Prolia®(16% increase yoy). In early 2019, Amgen was voted one of Fortune Magazine's Most Admired Companies in the pharmaceutical industry and was listed number 5 on Fast Company's 2019 Most Innovative companies.
安进是一家总部设在加利福尼亚州的美国生物制药公司,专门开发新型人体疗法,重点研究心血管疾病、肿瘤学、骨健康、神经科学、肾病和炎症。该公司正稳步成为排名前十位的常客。这一变化部分是由于各种安进产品的成功,包括Repatha(72%增加YY),BLINCYTO?(31%增加YY)和Prolia?(16%增加YY)。2019年初,安进被"财富"杂志评选为制药行业最受尊敬的公司之一,并在FastCompany 2019年最具创新能力的公司中名列第五。
7. AbbVie US $32.8 billion
艾伯维 AbbVie 328亿美元
Research-driven American biopharma AbbVie has maintained its position on this list, with an impressive increase of 16.2% compared with 2017 pharma revenue statistics. AbbVie has recently announced that upadacitinib, one of their most anticipated drugs in development that will be used to treat moderate to severe atopic dermatitis, has been granted breakthrough therapy designation by the FDA. This is just one of the many promising pipelined drugs in AbbVie's varied portfolio which spans multiple therapy areas, including dermatology, oncology, neurology and gastroenterology. Boosting revenue is AbbVie's top selling drugs Humira, the current bestselling drug in the world and Imbruvica, one of today's leading cancer drugs.
研究驱动的美国生物Pharma abbvie一直保持其在这份名单上的地位,与2017年制药收入统计数字相比,增长了16.2%。AbbVie最近宣布,upadacitinib,他们最期待开发的药物之一,将用于治疗中至重度特应性皮炎,已获得美国食品和药物管理局的突破性治疗指定。这只是AbbVie的多种药物组合中许多有希望的流水线药物之一,它跨越多种治疗领域,包括皮肤病学、肿瘤学、神经学和胃肠病学。增加收入是AbbVie最畅销的药物Humira(目前世界上最畅销的药物)和Imbruvica(当今领先的癌症药物之一)。
6. Novartis US $34.9 billion
诺华349亿美元
One of the leading pharmaceutical companies in Switzerland, Novartis comfortably makes the top 10 pharma list for 2019. The company focuses on a wide range of disease areas including oncology, immunology/dermatology, neuroscience and respiratory. The company's revenue grew by 5.8% compared with 2017 figures despite a few top selling drugs facing generic competition in major markets, such as as oncology success Gleevec, and blood pressure drugs Diovan and Exforge. To combat these losses, Novartis spent 18% of their overall 2017 revenue on research & development in 2018. Currently, Novartis' best selling drugs are Gilenya, for multiple sclerosis, and Lucentis, for patients suffering from eye-degenerative diseases.
作为瑞士领先的制药公司之一,诺华轻松跻身2019年前10强。该公司专注于广泛的疾病领域,包括肿瘤学、免疫学/皮肤科、神经科学和呼吸系统。与2017年的数据相比,该公司的收入增长了5.8%,尽管几种畅销药物在主要市场面临非专利药品的竞争,如肿瘤学的成功,Gleevec,以及血压药物Diovan和Exforf。为了弥补这些损失,诺华公司在2018年将2017年总收入的18%用于研发。目前,诺华公司最畅销的药物是针对多发性硬化症的Gilenya和用于患有眼部退行性疾病的Lucentis。
5. Merck & Co US $37.7 billion
默克公司377亿美元
American pharmaceutical company Merck takes a spot as one of the top 5 pharmaceutical companies in the world in 2018. Merck is known as MSD outside of North America. The company develops drugs, vaccines and biologics in many areas including cardiovascular, oncology, endocrinology and infectious disease. The company saw an impressive 12.2% revenue growth since 2017 with sales boosted by the continued success of Merck's bestselling drugs:cancer immunotherapy Keytruda, HPV vaccine Gardasil and diabetes pill Januvia.
2018年,美国默克制药公司成为全球五大制药公司之一。默克在北美以外被称为MSD。该公司在许多领域开发药物、疫苗和生物制剂,包括心血管、肿瘤学、内分泌学和传染病。自2017年以来,该公司营收增长了12.2%。默克最畅销的药物如癌症免疫疗法Keytruda、人乳头瘤病毒疫苗Gardasil和糖尿病药丸Januvia的持续成功推动了销售额的增长。
4. Sanofi US $39.3 billion
赛诺菲393亿美元
4th on the top 10 pharma list is French pharmaceutical company, Sanofi. The company saw 7.1%% revenue growth within its pharmaceutical sector, which contributes a substantial percentage of the company's total revenue. Over 25% of this revenue came from Sanofi's three best selling drugs, Lantus, an insulin injection for diabetes, Lovenox, an anticoagulant to prevent blood clots, and Aubagio, the one-daily pill to treat a form of multiple sclerosis.
排在第四名的是法国制药公司赛诺菲。该公司制药部门收入增长7.1%,占公司总收入的很大一部分。超过25%的收入来自赛诺菲最畅销的三种药物:兰图斯(Lantus),糖尿病胰岛素注射剂(Lovenox),防止血液凝块的抗凝血剂,以及治疗多发性硬化症的每日一次的药丸奥巴吉奥(Aubagio)。
3. Johnson & Johnson US $40.7 billion
强生公司407亿美元
In the top 3 pharmaceutical companies in the world is Johnson & Johnson, a company that was established over 130 years ago and has become a staple household name thanks to popular consumer goods like Aveeno, Neutrogena and Listerine. The notable 12.1% growth can be in part attributed to its acquisition of biopharmaceutical company Actelion in 2017, which contributed a 3.4% increase in 2018 thanks to its pulmonary arterial hypertension portfolio. Other drivers of growth included best-selling drugs Stelara, Darzalex and Zytiga.
在世界前三大制药公司中,强生公司(Johnson&Johnson)是一家成立于130多年前的公司,由于Aveeno、Neutrogena和Listerine等受欢迎的消费品,该公司已成为家喻户晓的主要品牌。其中12.1%的显著增长可归因于其2017年收购生物制药公司Actelion,由于肺动脉高压的投资组合,该公司在2018年实现了3.4%的增长。其他推动增长的因素包括最畅销的药物史黛拉、达扎莱克斯和zytiga。
2. Roche US $45.6 billion
罗氏456亿美元
Swiss pharmaceutical company, Roche, is the 2nd biggest pharmaceutical company in the world for 2019, and employs 94,442 people worldwide. The company develops innovative drugs and devices in a number of key indications, such as oncology, immunology, infectious diseases and neuroscience. Annual growth from the pharmaceutical segment was 2.7% and revenue from the top 3 products contributed over 40% of Roche's total revenue in 2018($57.2 bn). Roche's best-selling drugs also happen to be in the world's top cancer drugs:Herceptin, Avastin and Rituxan. Roche's CEO, Severan Schwan reported that new medicines in accounted for 90% of the company's growth in 2018, particularly the launch of Ocrevus, said to be the most successful in Roche's history.
瑞士制药公司罗氏(Roche)是2019年全球第二大制药公司,在全球拥有94,442名员工。该公司在肿瘤学、免疫学、传染病和神经科学等许多关键适应症中开发创新药物和设备。制药行业的年增长率为2.7%,前3大产品的收入占罗氏2018年总收入的40%以上(572亿美元)。罗氏最畅销的药物也恰好是世界顶级癌症药物之一:赫赛汀、阿瓦斯丁和利图克。罗氏首席执行官西弗兰·施万(Severan Schwan)报告称,2018年,新药占公司增长的90%,尤其是Ocrevus的推出,据说是罗氏历史上最成功的一次。
1. Pfizer US $53.7 billion
辉瑞537亿美元
The world's largest pharmaceutical company is multinational pharma giant Pfizer, headquartered in Connecticut, USA. The research-based company has a varied portfolio that spans many therapy areas, including immunology, oncology, neurosciences and rare diseases. Despite modest revenue growth, Pfizer had a very successful year in 2018. The company received several FDA approvals, particularly in oncology, and many of its best-selling products have many years of patent protection remaining. There was particular growth with some of Pfizer's key products, including Ibrance, Eliquis and Xeljanz.
世界上最大的制药公司是跨国制药巨头辉瑞,总部设在美国康涅狄格州。这家以研究为基础的公司拥有多种不同的治疗领域,包括免疫学、肿瘤学、神经科学和罕见疾病。尽管收入增长不大,但辉瑞在2018年取得了非常成功的业绩。该公司获得了美国食品和药物管理局的批准,特别是在肿瘤学方面,许多最畅销的产品仍有多年的专利保护。辉瑞的一些关键产品,包括Ibrance、Elicis和Xeljanz,都出现了特别的增长。