一、论坛背景
湖南大学位于中国历史文化名城长沙,校区位于湘江之滨、5A级岳麓山风景区内,被《环球人文地理》评为"最诗情画意的高校"。学校办学起源于宋太祖开宝九年(公元976年)创建的岳麓书院,享有"千年学府,百年名校"之誉,是教育部直属全国重点大学、国家"211工程""985工程"重点建设高校、国家"世界一流大学"建设高校。
湖南大学举办国际青年学者岳麓论坛,旨在打造学校国际化引才主平台,集聚海内外不同学术背景的优秀青年学者,就国际前沿科技与发展动态开展交流与探讨,促进国际青年学者之间的交流和合作,携手探索科学前沿,共同攀登学术高峰。
二、申请条件及学科领域
年龄在40岁以下,在自然科学与工程技术、经济管理与人文社科等领域取得一定成绩,立志在国内发展,具有较大发展潜力的海内外优秀青年学者。
哲学领域:哲学
经济学领域:应用经济学、理论经济学
法学领域:法学
历史学领域:中国史
理学领域:数学、物理学、化学、生物学、统计学
工学领域:力学、机械工程、仪器科学与技术、材料科学与工程、动力工程及工程热物理、电气工程、电子科学与技术、信息与通信工程、控制科学与工程、计算机科学与技术、土木工程、化学工程与技术、交通运输工程、环境科学与工程、生物医学工程、软件工程、网络空间安全、超性能计算、城乡规划学、建筑学
医学领域:基础医学、药学
管理学领域:管理科学与工程、工商管理、公共管理
艺术学领域:设计学
♦以上领域交叉学科
三、申请报名渠道
有意向参加论坛的各领域青年学者,可以通过以下两种方式报名参加。
1.可将个人详细简历发送至以下邮箱:forum@hnu.edu.cn(所附简历名称中请注明研究领域)。
2.可点击 http://register.hnu.edu.cn/m/home/index ,或扫描二维码报名。

论坛报名截止时间:2020年12月15日止。
四、日程安排湖南大学2020年国际青年学者岳麓论坛时间如下:12月26日 主论坛 12月27日—28日 各分论坛
五、服务保障 学校为每位受邀参会学者提供往返差旅、交通、食宿等相关费用据实报销,其中国际差旅限额1.2万元/人,所报销费用按照学者本人要求的方式进行结算。论坛期间食宿由学校统一安排。学校为每位受邀者提供全程精心服务,通过实地考察参观,全方位感受千年学府的文化底蕴与宜居长沙的城市魅力。
六、联系方式湖南大学人才工程办 左鑫电话:0731-88821397手机:13487564668 邮箱:forum@hnu.edu.cn 传真:0731-88821397

I. Introduction to Forum
Hunan University is located in Changsha, a historically and culturally renowned city in China. The campus is situated at the foot of Yuelu Mountain, a National 5A Scenic Spot, along the bank of Xiangjiang River, and it is rated as "the most poetic college" by Cultural Geography. Hunan University was founded in the ninth year of Kai Bao period of the Northern Song Dynasty(976 A.D.), honored as an "Ancient Millenarian Academy, Famous Centennial University". It is a national key university affiliated to the Ministry of Education, a key university in Project 211 and Project 985, as well as a national "world-class university". Yuelu Forum of International Young Scholars, hosted by Hunan University, aims at gathering outstanding young scholars with diversified academic backgrounds from home and abroad to have discussions on the latest explorations of international frontier technology and its future development. This forum is meant to promote exchanges and cooperation between young scholars from all over the world, to enhance their joint effort in exploring the science and technology frontier area, and to achieve more advanced academic achievements.
II. Application Requirements and Fields Covered
Application Requirements:Outstanding young scholars from home and abroad under the age of 40, with remarkable achievements in the fields of natural sciences and engineering technology, economic management, and humanities and social sciences, with great potentials for future development and intentions to start a career in China. Fields covered:♦ Philosophy♦ Economics:Applied Economics, Theoretical Economics♦ Jurisprudence♦ Historiography:Chinese History♦ Science: Maths, Physics, Chemistry, Biology, Statistics ♦ Engineering:Mechanics, Mechanical Engineering, Instrument Science and Technology, Materials Science and Engineering, Power Engineering and Engineering Thermal Physics, Electrical Engineering, Electronic Science and Technology, Information and Communication Engineering, Control Science and Engineering, Computer Science and Technology, Civil Engineering, Chemistry Engineering and Technology, Transportation Engineering, Environmental Science and Engineering, Biomedical Engineering, Software Engineering, Cyberspace Security, Ultra-High Performance Computing, Urban and Rural Planning, Architecture ♦ Medical Science: Preclinical Medicine, Pharmacy♦ Management:Management Science and Engineering, Business Management, Public Management ♦ Arts: Design Studies♦ Interdisciplinary studies of above mentioned fields
III. Application Procedure
Young scholars who intend to participate in Yuelu Forum can sign up in the following two ways. 1.Send a detailed CV to forum@hnu.edu.cn(please specify research field as part of the CV document name); 2.Click http://register.hnu.edu.cn/m/home/index or scan the QR code below to sign up: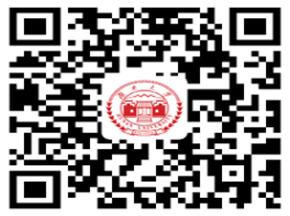 Please note that the application deadline is December 15th, 2020.
IV. Schedule of the Forum
The time for Hunan University 2020 Yuelu Forum of International Young Scholars to be held is as follows:December 26:Main Forum December 27-28:Sub-forums
V. Service Provision
Hunan University will reimburse each invited scholar his/her actual travel expenses of round-trip travel, local transportation, accommodations and catering upon handing in receipts and invoices(For international traveller, the reimbursement limit is RMB¥12000), and the reimbursement will be settled as required by the scholar. The University will provide accommodations and catering during the Forum. The university is glad to provide assistance and service to all invited scholars throughout their on-the-spot appreciation of the charm of the thousand year old Yuelu Academy and livable city of Changsha.
VI. Contacts
Talent Recruitment Office, Hunan University Chen Renpeng He Min and Zuoxin
Tel:0086 731 88821397  Mobile phone:0086 13487564668
E-mail:forum@hnu.edu.cn Fax:0086 731 88821397