Monte Jade Science & Technology Association (SCMJ)

(Southern California)
Upcoming Technology Event
January 23rd, 2010 [SAT]
SCMJ 3 Minutes Fast Pitch Competition
Time: January 23rd, 2010 [SAT]; 1:30pm – 5:00pm
Location:

Baxter Lecture Hall
California Institute of Technology
Pasadena, CA 91125 (see map and directions below)

Organized By: Southern California Monte Jade Science & Technology Association
Co-sponsored By: Tech Coast Angels and Pasadena Angels
Register and Pay Online (www.scmj.org)
You may also make check payable to "SCMJ" & mail to:

SCMJ, c/o 98
Discovery, Irvine, CA 92618-3105

or pay at the door.

Rates: $10.00 for members, $5 for students, and $20 for non members before January 17th. Registrations on or after January 17th will be subject to an additional $5 charge. For more information, please visit Website: http://www.scmj.org.
For questions, please send email to: scmj@wclawyers.com
---
You are cordially invited to attend this exciting 3 Minutes Fast Pitch Competition organized by the Southern California Monte Jade Science & Technology Association.
This event is an exciting opportunity to see the new businesses, representing various technologies and ideas that are springing up in Southern California. Formatted as a pitch competition, this is an educational opportunity to learn how to profile an enterprise and deliver a concise, effective pitch.
The judges are comprised of well known professional angels and venture capitalists, each having experience as entrepreneurs. They will also provide valuable insight on the pitches of the presenting companies, as well as advice on how to deliver a concise, effective pitch to make a positive first impression. This will be a good business networking opportunity for all.
THE PRESENTING COMPANIES:
Cardesh
Business card management

Equipois
Technology that enables the maneuvering of tools and other objects as if weightless

Hollywood Stars
Platform for competing and networking among independent and unsigned artists

kidthing
Multi-media app made for kids for the creation, sale and sharing of digital content

Luminus Technologies
Cancer diagnostics

Vividluxury.net
Online purveyor for luxury connoisseurs

mTraks
Social music community and digital music marketplace

Ray Flame Entertainment
Gaming development and publishing business

Tyloon.com
Multilingual search engine

WonderHowTo.com
Community-developed instructional video guide website
THE JUDGES:

Brady Caverly

Mr. Caverly is the Co-President/Founding Partner of Alchemy Worldwide, LLC a direct-to-consumer marketing company that uses direct response TV to transform product ideas into broad-based consumer companies and global brands.

For more than 10 years, Brady Caverly has been widely regarded as one of the most highly accomplished direct marketers, product developers and DRTV producers in the industry. He has created some of the most successful direct response television campaigns of all time. In concert with his partners, Mr. Caverly is responsible for overseeing the development of new products, brands and line extensions; the creation and implementation of marketing strategies; and the development of new marketing channels. With partners Lenny Sands and Jeff Clifford, Mr. Caverly supervises the overall direction of the company.

Prior to founding Alchemy, Mr. Caverly co-founded C Squared TV, a direct marketing and infomercial production company responsible for the creation of many of Alchemy's early and most successful products and DRTV campaigns. Prior to that, Mr. Caverly served as Senior Vice President of Direct Marketing and Interactive at National Media Corp. (eventually e4L, corp.) the world's largest publicly traded infomercial company, where he wrote, directed and produced some of the company's most successful infomercials. Additionally, Mr. Caverly led the development of the Great North American Slim Down diet program and also spearheaded the development of Everything 4 Less, an industry-leading online shopping club developed in conjunction with Cendant Corporation.
Julian Chan

A graduate of Brown University and the UPENN Law School, he started his career as the General Counsel of Peritus Software Services. After its IPO, he then founded the Idealflow Angel Fund, an angel network composed of very high profile Chinese entrepreneurs. While there, he also ran its consulting arm. He later served as the General Counsel and COO of Univessence Digital Studio. He has actively participated with many formal and informal angel networks, including Walnut Ventures, Common Angels, and Band of Angels. He frequently speaks on the issues of start-ups, including speaking at garage.com regarding the perspectives of investors. Currently, he is in private practice, providing legal services to start-ups and various funds. In 2006, Legalmatch named him Attorney of the Year for Los Angeles in the Business services category.
Clifton K. Chang

Having started with a BSc in Electrical Engineering from the Massachusetts Institute of Technology and an MBA from the Harvard Business School, Mr. Chang is well known as an active lead investor and member of the Executive Committee of the Los Angeles Chapter of Tech Coast Angels, the largest angel investment network in the United
States. He is a frequent guest lecturer at UCLA, USC and Loyola Business Schools. He is a founder and past chairman of the Asian Business League of Southern California. He is a board member of several portfolio companies and has served as chairman or active board member of a number of other nonprofit and business organizations which include the Carlthorp School, FF Chinese Fraternity and the Harvard Business School Alumni Association of Southern California.

Clifton K. Chang is the managing partner and founder of Altair Investment Company, a company that invests in industrial business parks, manufacturing companies and early-stage high growth technology companies. Altair only invests in companies and roperties in which Altair principals can play a significant advisory role in management and make a significant contribution in creating value.
Darin Chen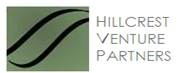 Darin Chen is a co-founder and Managing Director of Hillcrest Venture Partners. Prior to co-founding Hillcrest, Darin was Senior Associate at Arcturus Capital, where he evaluated and sourced investment opportunities.

Darin represented the firm as board observer to High Throughput Genomics, one of the firm's portfolio companies. Darin began his career in venture capital as an Analyst at Hopewell Ventures, where he evaluated deal flow and helped raise the firm's inaugural fund. Before Hopewell, Darin co-founded Lan-CE, an industrial process improvement company, and E-volutionet. com, an Internet exchange for the procurement of services.

Prior to his entrepreneurial work, Darin was an Associate at the law firm of Schaffer & Baumer, where he specialized in corporate law and represented cancer research organizations. Darin worked as a Research Scientist at Immunosciences Laboratories, a clinical immunology laboratory, before he began practicing law. Darin also serves on the investment screening committee for the Southern California Biomedical Council Investor Conference, as a company mentor for the NIH Commercialization Assistance Program, and on venture panels for CONNECT and OCTANe.

Darin has a BA in Molecular Biology from Rice University, a JD from Loyola University of Chicago, and an MBA from the University of Chicago, graduating near the top of his class.
Nikhil Jain

Mr. Jain's expertise revolves around building business and teams from the "just an idea" phase. He brings diverse experience in various industries in several roles including management consultant, business advisor and C-level positions.

A serial entrepreneur with the mindset of a management consultant, Mr. Jain has helped his clients succeed through careful planning, analysis and execution. He has held the position of COO in a business advisory and management consulting firm where he advised clients in various industries such as hospitality, renewable energy, real estate, healthcare, financial services, nutrition and social networking and helped with funding requirements, private placements, business process redesign, business planning, devising marketing, business development and go-to-market strategies, mentoring entrepreneurs, structuring MBO's and LBO's and consulting to executive management.

Mr. Jain has consulted to various Fortune 500 clients in industries such as retail, utilities, manufacturing, healthcare and helped with implementing multi-million dollar projects and advising on mergers and acquisitions. Nikhil currently sits on the Mentoring Committee of the Los Angeles Business Technology Center and the Executive Committee of the Caltech MIT Enterprise Forum.

He is currently the CEO of Clean Green Guy, Inc., an online platform connecting Entrepreneurs, Investors and Service providers in the green space and also the CEO of Artilient LLC, a highly successful management consulting firm based out of Southern California. He has a BS in Electrical Engineering and an MBA in Finance from USC's Marshall School of Business.
Al Schneider

Mr. Schneider has served on the Board of Governors of Tech Coast Angels since 2006 and as President of Tech Coast Angels/Los Angeles in 2008-2009. He was also a co-founder of Pasadena Angels in 2000, Vice Chairman there since 2001 and nominee to serve as Chairman of Pasadena Angels in 2010-2011. Tech Coast Angels has funded over $104 million into 160 companies over the last 12 years, and Pasadena Angels has funded approximately $20 million into 60 companies since 2001. The two groups work closely together. Al is also past Chairman of Entretech, a non-profit focused on empowering entrepreneurs to build their businesses through capital, education, people and strategic partners.

As an active angel investor in the Los Angeles area for over 9 years, Al has been a start-up board member and mentor to many early stage companies. Al served on the board of Pictage, a complete digital proofing, marketing and production solution for professional photographers acquired by an affiliate of Apax Partners; is currently Chairman of H2Scan, a leader in hydrogen sensing products for area monitoring and process control; and was earlier Chairman of Unified Dispatch, a software company serving the ground transportation industry.

Most of Al Schneider's career was spent in the real estate and healthcare property investment, finance and development industries. He was Vice President of the B.F. Saul Company, a diversified real estate organization which then advised the public REIT now known as Saul Centers (NYSE-BFS). Later, he was the COO of The Canterbury Group, a private real estate company which developed rental apartments, condominiums, and other residential and healthcare properties. His earliest private equity investments outside the real estate field, in the mid 1990's, included Clifton Mining (NASDAQ-CFTN) . Al has a B.A. and M.B.A. from Harvard.
THE EVENT CHAIRS
Julian Chan, Esq. (see above)
Charles C.H. Wu, Esq.

The President of SCMJ is an accomplished seasoned intellectual property attorney. A cum laude graduate of U.S.C. School of Engineering, he received his Bachelor of Science degree in Electrical and Biomedical Engineering and his Master of Science degree in Computer Engineering from U.S.C., then later his JD from Western State University, College of Law with a certificate in tax emphasis. Mr. Wu began his professional career as an Electrical Engineer at I.B.M., before becoming a law firm partner in the Wu & Cheung, LLP law firm (www.wclawyers.com), a six-attorney law firm specializing in intellectual property, business litigation, and estate planning.

In year 2004, Mr. Wu was the counsel of record for respondents Lasting Impression and MCN International for a U.S. Supreme court case entitled K.P. Permanent Make-up vs. Lasting Impression and MCN International, 543 U.S. 111. The K.P. case defined the Trademark Fair Use doctrine in the United States.
Kelly Wu, CPA, MBA

A Senior Relationship Manager in the Corporate Banking and Global Coordination Units of Union Bank, a wholly owned subsidiary of the Mitsubishi UFJ Financial Group, one of the world's top 10 largest financial services companies. He has spent over 17 years in the Southern California financial community. During that period of time, Kelly has provided financing solutions totaling more than $1.5 billion for companies across a variety of industries, including consumer products, retail, aerospace, automotive, technology and manufacturing/distribution. He specialized in structuring senior debt transactions, specifically asset-based, enterprise value and cash flow revolving lines of credit and term loans for companies seeking working capital solutions, cross-border financing, acquisition financing, debt restructuring.

Prior to joining Union Bank, Kelly served in transactional and portfolio roles for CIT, Wachovia Capital Finance, and Bank of America. He began his career with Ernst & Young's Entrepreneurial Services Group and is a Certified Public Accountant in California. Kelly graduated cum laude with a Bachelor of Science in accounting and earned his MBA in investment finance from the University of Southern California's Marshall School of Business.

He is currently a member of several associations including the Commercial Finance Association and the California Society of Certified Public Accountants. He is also a board member for two charitable organizations, Breathe of California Los Angeles and the Performing Arts Foundation for Asian Americans.
David Yang

A Senior Vice President at Pacific Pearl Group (Member FINRA/SIPC), a China-focused merchant bank that is headquartered in Los Angeles with offices in Nanjing, Shanghai and Shenzhen. Prior to joining Pacific Pearl Group, he was with Cowen and Company's (former subsidiary of Société Générale) corporate finance and mergers and acquisitions investment banking team in San Francisco and New York.

During his time at Cowen, he participated in the spearheading efforts of the firm's entry into China, focusing on cross border M&A and private placement opportunities. He has executed a variety of M&A and capital markets transactions and has helped to raise over $2 billion for growth equity clients.

David was previously enrolled at Georgetown University School of Medicine. He holds a B.S. in Chemistry and a B.A. in Psychology from UC Berkeley.
DIRECTIONS TO BAXTER LECTURE HALL, CAL TECH
Traveling west on the 210 freeway or east on the 134/210 freeway, take the Hill Avenue off-ramp and proceed south on Hill. Go to Del Mar Avenue and turn right. Take the next left on Holliston Avenue, into Caltech campus.

Park in the Holliston parking structure located at 370 S. Holliston Ave. approximately half-way down the block on the left side of the street. After exiting the parking structure, proceed to Baxter Hall by continuing south on Holliston to the end of the block.

Turn right onto the San Pasqual mall, and follow the walkway to the fifth building on your right (there is a pond in front of the building).

From the 110 freeway north, which turns into Arroyo Parkway, take Arroyo Parkway to Del Mar Avenue and turn right. Go approximately 1.5 miles to Holliston Avenue, and turn right. Park in the Holliston parking structure located at 370 S. Holliston Ave., approximately half-way down the block on the left hand side of the street.

After exiting the parking structure on Holliston, proceed to Baxter Hall by continuing south on Holliston to the end of the block. Turn right onto the San Pasqual mall, and follow the walkway to the fifth building on your right (there is a pond in front of the building.)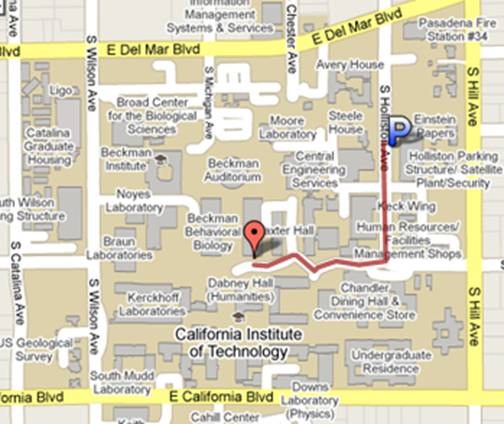 a