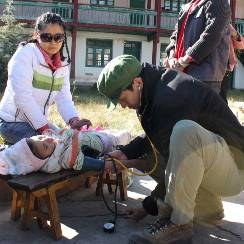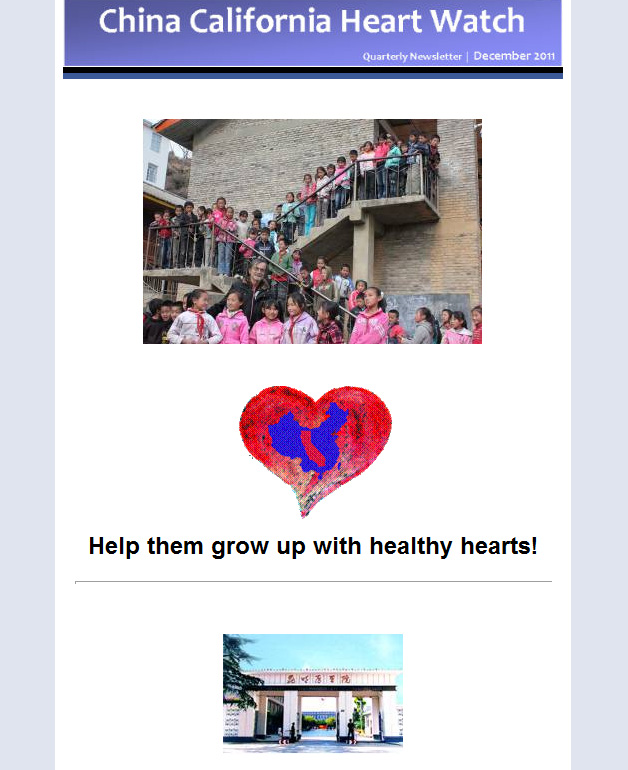 ChinaCal Allies with Kunming Med Univ First Affiliate Hospital(KMUFAH)to Lead Village Clinics and Student Interns in 2012.

The China Cal interns are American medical, public health and undergraduate students. They have assisted in screening tens of thousands of rural school children, treated tens of thousands of patients with hypertension and heart disease and helped over 80 children in need of surgery for heart defects. The internships that they participate in have resulted in four peer-reviewed international scientific publications regarding hypertension and heart disease in rural Yunnan province. This very successful program brings young American and Chinese trainees together to help people in need. The student interns assist in clinical care and research, while their families generously provide funding for our programs.

China Cal has found a new partner and leader for the internship program. Professor Guo Tao, director of the cardiology department at KMUFAH has agreed to take responsibility over the program in 2012. KMUFAH will send faculty level staff to lead the five village mission trips next year and to lead and teach the US, Canadian, Asian and other international student interns who man the clinics and screen the school children.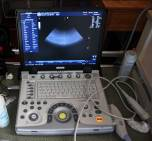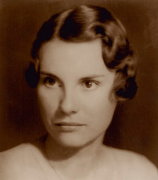 China Cal Receives Grants from Dorothea Haus Ross Foundation, Hong Kong Childrens Heart Foundation and Dr. Chong Hone.
Dorothea Ross(1906 – 2000), at left, was an English philanthropist who donated much of her wealth to improving the lives of the world's impoverished children. The foundation that Ms. Ross created has granted $8850 to China Cal to help purchase a GE Vivid E ultrasound recordng instrument which is already being used for diagnosing heart defects in Yunnan children.
The Hong Kong Childrens Heart Foundation has granted 200000 Hong Kong dollars to China Cal to support surgeries for Yunnan children with complex congenital heart disease.

Dr. Chong Hone of Diamond Bar, California, generously donated $10000 which was also used to help pay the cost of purchasing the ultrasound recorder.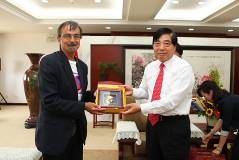 KunmingLeader Thanks China Cal.

In August, Kunming CCP Secretary General, Qiu He, thanked China Cal for its contributions to Kunming City and Yunnan Province. He offered to work more closely with China Cal, specifically to solve the problem of screening young children for congenital heart disease. Secretary Qiu is the most important political leader in Kunming and the second most important in Yunnan province. Mr. Qiu met with China Cal Director Dr. Robert Detrano, administrator Shan Shan Chen, UCI Professor Taosheng Huang and medical leaders from Kunhua and Yanan hospital in the Kunming government offices. They discussed the problem of Yunnan children whose heart defects are discovered so late in life that surgery can no longer save them. Dr. Detrano, Professor Huang, Kunming Medical University Professor Tang Songyuan and Kunhua Hospital Professor Zhu Baosheng are writing a proposal for support from the Kunming government to provide screening of all Yunnan children at birth and again at two years of age and to help those with defects to obtain curative treatment.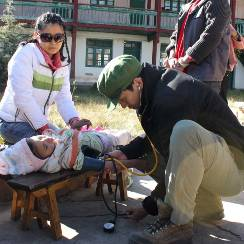 Please Donate Now China Cal operates solely through the generosity and vision of donors, participants and YOU. Every donation helps tremendously and allows us to continue our efforts in saving lives, raising awareness about heart disease, and improving quality of life through our medical, research and education programs. In order to continue and improve our work, we must soon hire a cardiac nurse to help us with our clinical work. With your help, we can purchase better equipment and hire the staff we need. Your contribution is greatly appreciated.

To donate, please visit our website, www.chinacal.org, or send a check payable to China California Heart Watch to the following address:

Robert Detrano,
Clinical and Program Director
China California Heart Watch
19 Mistral Lane
Irvine, CA, 92617
Donations are tax deductibleChinaCal Wishes You All A
Happy New Year
春节快乐