This is to cordially extend our invitation to you and your connections to attend "The 23rd East China Fair Reception".
East China Fair(ECF)is the largest regional trade fair in China with the most traders, great variety of exhibits and the most onsite deals. With an annual 5-days session in March in Shanghai, ECF is supported by Ministry of Commerce of the People's Republic of China and is co-sponsored by nine provinces and cities. East China Fair, initiated in 1991 and thereafter 22 sessions have been held succrssfully. The 22nd East China Fair was held at Shanghai New International Expo Center, from March 1st to 5th, 2012, with an exhibition area of 115,000sqm. There were four specialized exhibition areas whith 5,880 standard booths and 3420 enterprises, namely Fashion/Garments, Home Textiles, Consumer Goods and Art Deco Gifts. The 22nd East China Fair had 21,124 business visitors from 128 countries and regions as well as 22,000 of their Chinese counterparts. The trade volume amounted to about 3.122 billion US dollars.
Chinese CEO Organization is the organizer of this ECF reception. The press release reception is scheduled on 11/19(Monday)at San Gabriel Hilton Hotel. It must be very informative and beneficial to many local importers and exporters in coming days. Please come to meet the Executives of ECF(Shanghai)and collect current Chinese market information for your business. Please call Nathan Ni for reservation:714-690-3949. Or email to:nathann@2eastwest.com.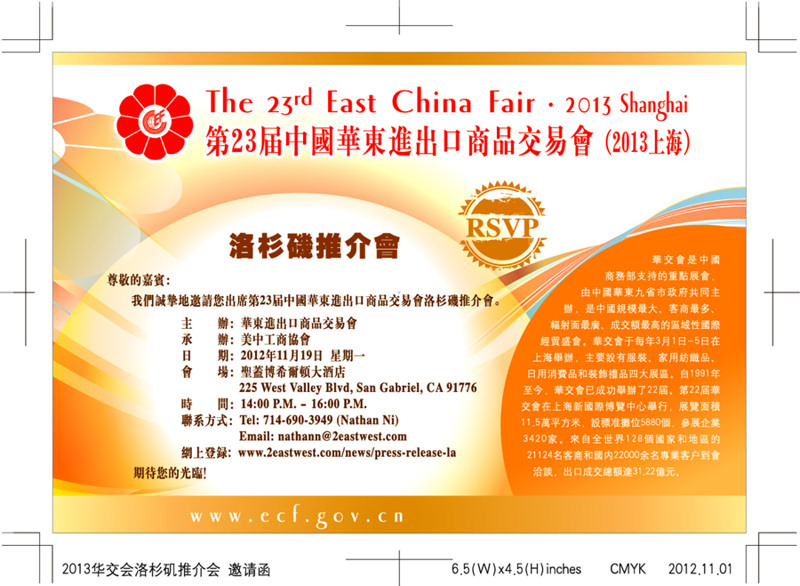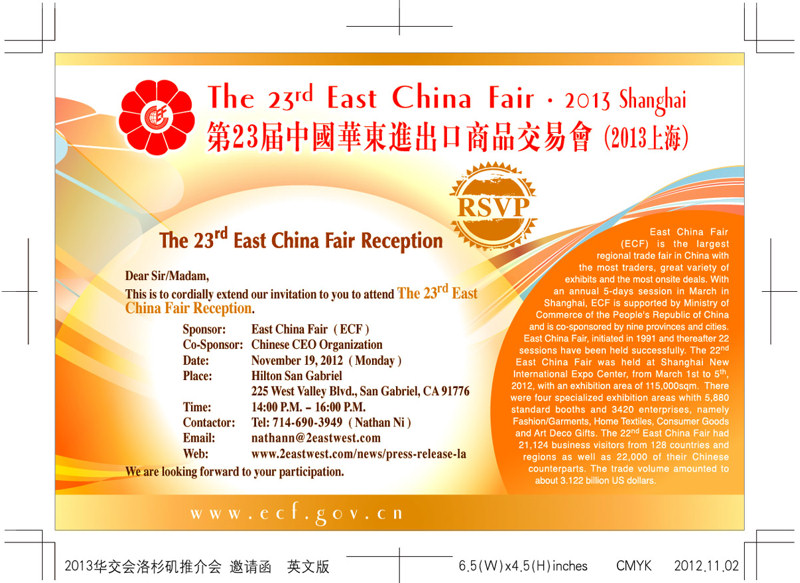 Best regards,
Cheng Lu
President, Chinese CEO Organization
14821 Northam Street
La Mirada, CA 90638
Tel:714-690-3700 Ext-211
Fax:714-690-9697
Email:chenglu@chineseceo.org
Website:www.chineseceo.org